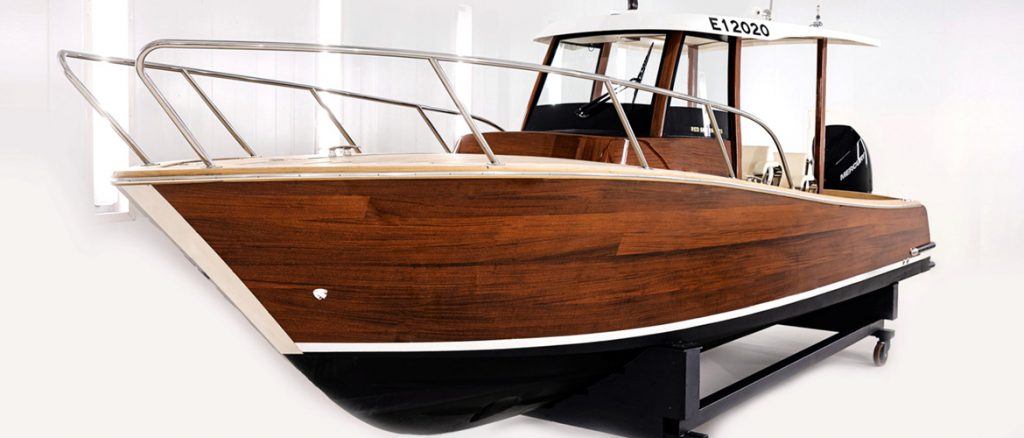 High tech meets hand made
The eye-catching sheerline of the Red Sky 29 proves that there's really no substitute for good looks.
But this classic beauty hides a modern beast: we've made sure, by way of sheer hands-on, high-tech engineering, that the yacht handles every bit as beautifully as it looks.
THE PERFECT HULL
Building performance from the bottom up
The bottom of the hull is an independent module whose form strikes a perfect balance between stability, manoeuvrability and fuel consumption. The module also houses the whole electrical infrastructure of the boat, an ideally positioned fuel tank, a bow thruster and a mounting platform for the optional Gyro stabiliser.
CONSTRUCTION
Modular design: choice without compromise The perfect bottom module accommodates four different, distinctive superstructures and one RIB. Topsides are avaiable as a laminated wooden structure with a carbon fiber internal layer or an epoxy foam cored laminate. The lineup allows for an interesting array of options and customisations.
DESIGN
The grace of classic proportions
Born of Allan Savolainen's pen, the Red Sky 29 discreetly conceals her high tech DNA behind a beautifully proportioned, classic silhouette, honed to detailed perfection by hand in the best tradition of Finnish craftsmanship.
STABILISATION
Yachting on rails: the magic of the gyro Gyro stabilisation turns the already stable hull into a train on water, virtually eliminating roll. No roll means no more sea sick days at sea!
The Red Sky 29's Mercury engine is the only one on the market to produce enough electricity to power a gyro, in addition to catering to the needs of all the other electrical systems on board.
TRANSPORT
Easy fit for a trailer or container
Red Sky 29's compact proportions make it easily transportable both on trailer and in a container.